Anyone who learns Dutch wants to learn new words and speak fluently. That's is what makes singing Dutch songs
 so much fun! You do not have to sing very well as long as you're having a good time!
Tuesday, January 28 NT2Spraak, a language training company in
Leiden, organizes a 'Singalong'-evening for foreigners. We will start the evening with a warming-up an
The evening is meant for foreigners, but Dutch partners (who can sing a bit 😉 are also welcome . Improve your Dutch and get to know new people !d then sing songs from the NT2Spraak repertoire like Het is een nacht (Guus Meeuwis) en De vlieger (André Hazes) accompanied by the enthusiastic musicians  Frank Renooij (piano)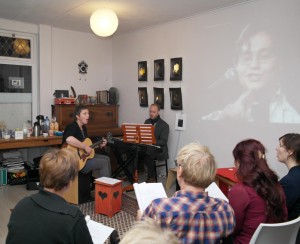 and Greet Meesters (vocals and guitar). You can borrow or buy booklets with the Dutch text and English translation. During the break there will be coffee, tea and soda and time to talk with the other 'singers'.
What does it cost?
Entrance is free. During the break we will collect some money for the musicians, so make sure you bring some change! The (soft) drinks cost € 1 ,-.
Sign In
Register at info@nt2spraak.nl or go to facebook.com/nt2spraak . There's room for about 40 people, so be on time!
Time and location
Tuesday, January 28 , 20:00-22:00 at Meet & Greet
Raamstraat 17, 2316 BA Leiden (side street of the Haarlemmerweg)
Sing along Dutch songs is een initiatief van NedLes in Amsterdam.